Tubac Day of the Dead Procession and Event
Get in the Spirit

Discover magic. Experience the unforgettable spectacle of Tubac's annual Día de los Muertos celebration. Also known as "Day of the Dead", Día de los Muertos is the tradition of celebrating and sharing memories of loved ones who have passed.

Ofrendas, or altars, are set up by many in Mexico and southern Arizona and adorned with items that the dead enjoyed while they were alive. In the procession, trunks of cars were set up showing off ofrendas with pictures to honor dead family and friends accompanied with drinks, sweets and bread that their dead loved ones used to enjoy.

Whether this is your first time hearing about Day of the Dead or Día de los Muertos and are new to the tradition or you participate every year, everyone is welcome to commemorate this celebration of life in Tubac.

Face Painting
Face Painting Locations:
Tubac Presidio State Historic Park & Museum, 1 Burruel Street, 9 am to 11 am

11AM Procession through Tubac:
Starting at the Tubac Presidio Historic State Park and Museum.
NHS Mariachi Apache, Aztek Dancers, Nogales High School Marching Band, Local Families and more. All are welcome to enjoy the procession along the route or to join the procession itself.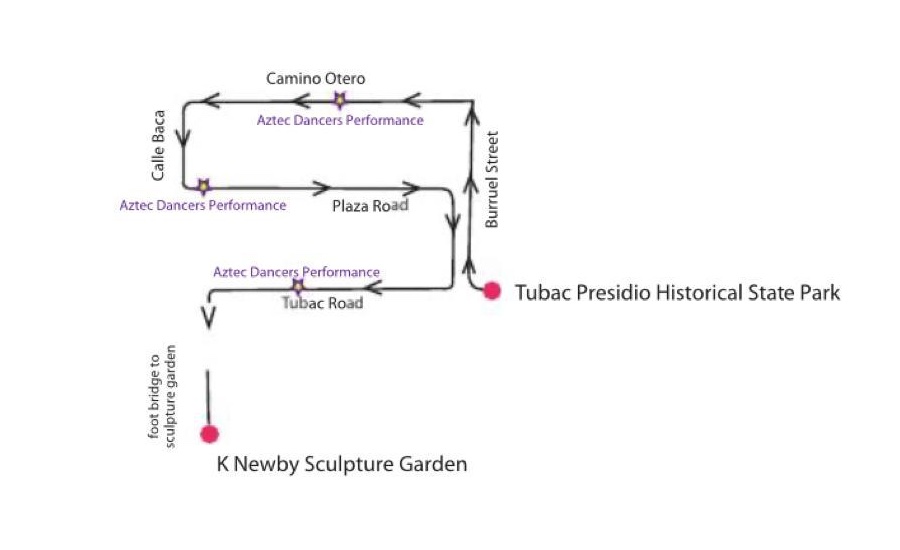 12PM Grand Finale:
Grand Finale of the procession walking over the metal pedestrian footbridge into the K Newby Gallery Sculpture Garden and the burning of the intentions in the bonfire with a short concert by NHS Mariachi Apache.
Enjoy the rest of the day visiting booths, food trucks, restaurants, shops, and the Ofrendas located at businesses throughout the village including the car trunk altars in town.

Ofrendas/Altars are located in Tubac November 1 - November 4
SPECIAL EVENTS:
Bruce Baughman Gallery is proud to present a regional juried art exhibition celebrating Day of the Dead/Dia de los Muertos, October 21 – November 18, 2023 Visit the exhibit from 10AM - 5PM at 19 Tubac Road. This art exhibition supports the Tubac community celebration of the holiday.