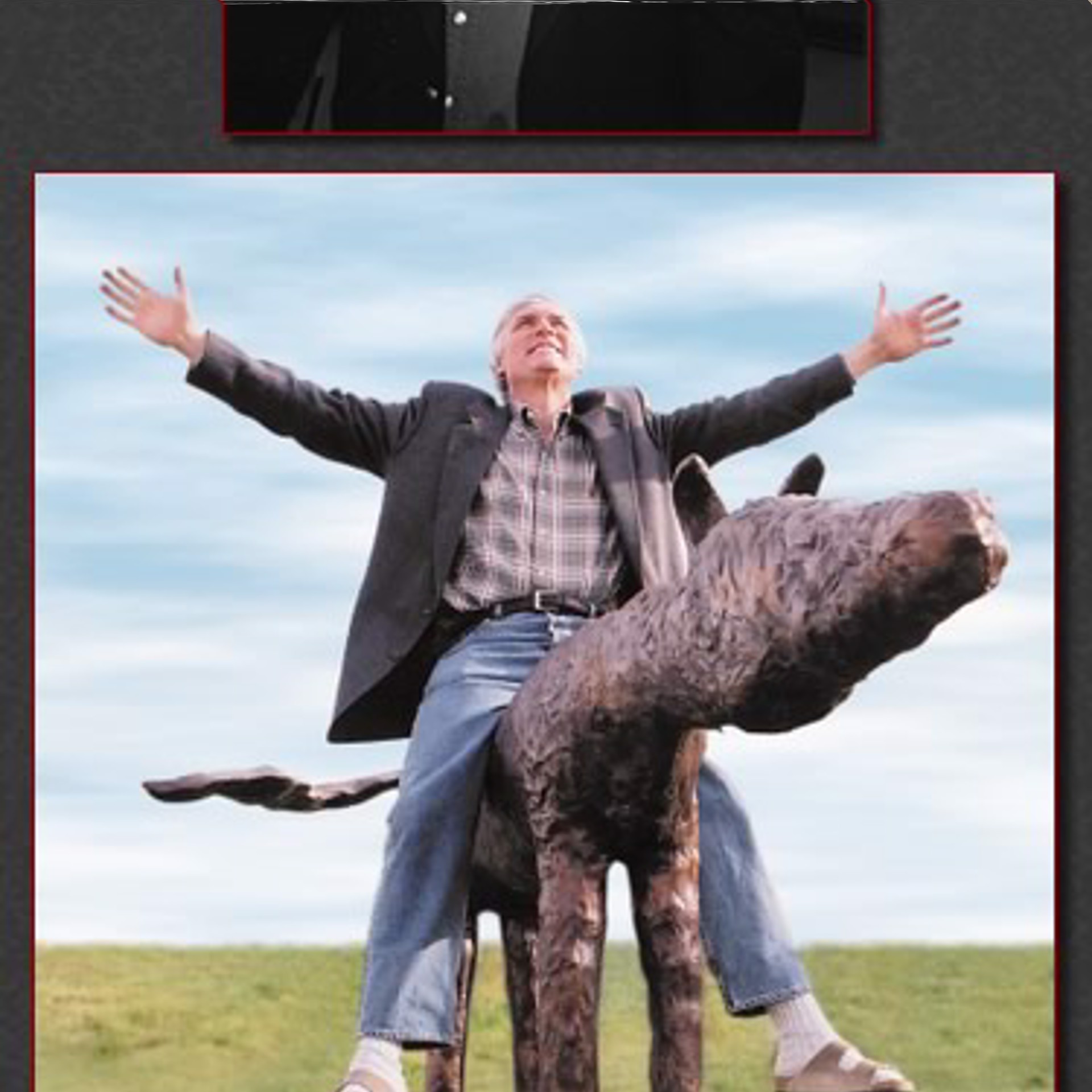 JIM BUDISH Artist's Statement: "As a Colorado Native, I studied sculpture at the Art Students League of Denver and the Loveland Academy of Fine Arts, as well as participating in International Sculpture Center workshops at the Art Institute of Chicago. I sculpt in clay on maquette size works and cast in bronze via the lost wax method. On life size and monumental works I prefer to sculpt in low density foam with a hot-knife, applying clay to the surface before casting in bronze via the lost wax method.
I began my artistic career sculpting representational, figurative works, studying with and in the tradition of many of the highly regarded sculptors working in and around Loveland and Denver, Colorado. I realized in time, however, that it was neither my desire nor my ambition to sculpt "photographs" in bronze. Rather, I felt that I wanted to create my own new and unique direction in representing the human form and the forms of the multitude of special creatures surrounding us, exploring the unique attitude, emotion, and personality of each, while attempting to capture the "Joie de Vivre" that I believe is lurking somewhere inside all of us."
Career: In 2002, 2003, and 2004, Budish's work was awarded Best of Show, Best of Sculpture or 2nd Place Sculpture, on 14 separate occasions at nationally recognized shows. In 2003 "Chauncey," a rabbit in monumental size was selected by the Loveland High Plains Arts Council for purchase and permanent installation in the Benson Sculpture Park in Loveland, CO. The following year, 2004, Jim Budish was the top selling artist at the Sculpture in the Park show in Loveland, CO. Jim has won 26 Best of Show awards.
Chauncey Goes to the Movies!! Jim's well-known sculpture makes an appearance in the filming of the 2006 film "The Break Up" starring Jennifer Aniston and Vince Vaughn.
Collections and Public Spaces Jim Budish's sculpture can be found in numerous public and private collections throughout the world. Select Listing of Public/Semi-Public Collections: Benson Sculpture Park, Loveland CO The Denver Children's Hospital, Denver CO The Worrell Collection, Charlottesville, VA The Leanin' Tree Museum, Boulder, CO The City of Edmonds, OK/Randall Shadid Mercy Saint Joseph's Hospital Ann Arbor, MI Port Clinton Square, Highland Park IL The City of Fountain Hills, AZ Poudre Valley Memorial Hospital, Fort Collins, CO Centerra Corporation, Fort Collins, CO Sublette County Library, Pinedale, WY Jim's public placement of monumental work can be found in Arizona, California, Colorado, Florida, Kentucky, Idaho, Illinois, Nebraska, New Mexico, New York, Pennsylvania, Texas, Washington. Internationally: Brussels, Belgium, Hong Kong and Shanghai PRC, London, England, and Zurich, Switzerland.
Read More